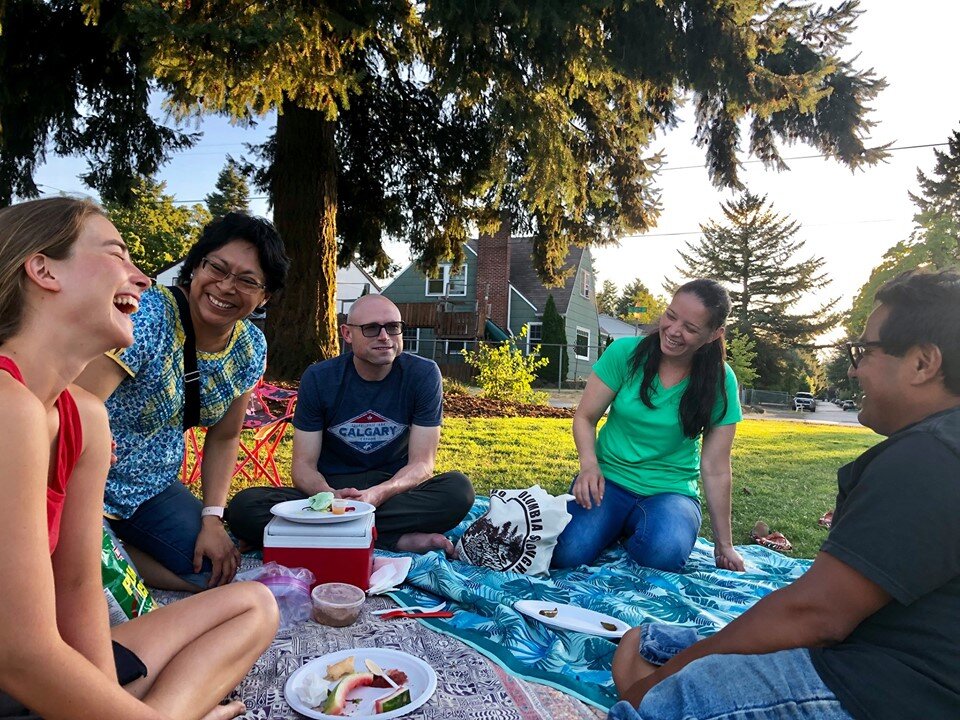 We meet Thursdays from 6:00 to 8:00pm, September 26th to November 7th at Luther Memorial, 4800 NE 72nd Ave.
Nos reunimos los jueves de 6:00-8:00pm, del 26 de septiembre hasta el 7 de noviembre en Luther Memorial, 4800 NE 72nd Ave.
Read More
Intercambio de Cully -
Cully Intercambio
English
The Cully Intercambio is organized by Cully neighbor-leaders and the Leaven Community. Join us to practice your English or Spanish and make new friends! We eat together, then have small group activities and conversation, half in Spanish and half in English. You're invited to give a donation of $1-10 per gathering to help pay for childcare and food costs. All language levels are welcome and we have childcare!
To register, contact Mira at (503) 951-3658 or mirabani626@gmail.com.
Español
El intercambio de Cully es organizado por los líderes del vecindario de Cully y la comunidad Leaven. ¡Ven a practicar tu inglés o español y haz amigos! Comemos juntos, luego tenemos conversaciones y actividades en grupos pequeños, la mitad del tiempo en español y la mitad en inglés. Invitamos a una donación de $ 1-10 (sugerida) en cada sesión para ayudar con el costo del cuidado infantil y la comida. ¡Todos los niveles de idiomas son bienvenidos y habrá cuidado de niños! Para inscribirse, comuníquese con Mira al (503) 951-3658 o mirabani626@gmail.com.